ALUMINUM BLEACHERS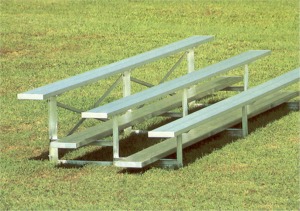 When there is a need for portable or transportable bleachers here is the answer. It offers aluminum angle design with all components being welded together. All aluminum standard bleachers have been designed to meet the '94 Uniform Building Code for safety.



*NON ELEVATED*
AAAAAAAAAAAAAAAAAAAAAAAAAAAAAAAAAAAAAAAA

ROWS
3
3
3
4
4
4
5
5
5
10
10
10


LENGTH
15'
21'
27'
15'
21'
27'
15'
21'
27'
15'
21'
27'


SEATS
30
42
54
38
54
70
47
67
87
93
133
173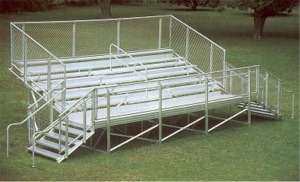 When your seating requirements call for bleachers with a steel framework combined with aluminum seat planks and foot planks, once again we offer you another choice. This series offers frames of steel angle design with all components being welded together. After fabrication, these frames are hot-dipped galvanized to ensure a most durable unit.



*ELEVATED*
AAAAAAAAAAAAAAAAAAAAAAAAAAAAAAAAAAAAAAAA

ROWS
5
5
5
10
10
10


LENGTH
21'
27'
33'
21'
27'
33'


SEATS
53
73
93
104
143
183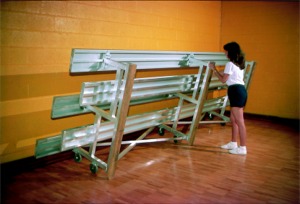 *TIP N' ROLL SERIES*
AAAAAAAAAAAAAAAAAAAAAAAAAAAAAAAAAAAAAAAA

ROWS
3
3
3


LENGTH
15'
21'
27'


SEATS
30
42
54






The perfect answer to auxiliary seating requirements is the Tip N' Roll bleachers. When in use, these units function as ordinary bleachers. After your event or when extra space is needed, simply tip the bleacher onto its 5" non-marring swivel casters and roll the unit to a safe storage area. All Tip N' Roll models are supplied with rubber pads under the frames to protect your floors.








---